Saving
New Brainstorm
School
Founded in 2010 by its headmaster, Nickolas Kintu, the New Brainstorm School is an altruistic enterprise created to educate impoverished children in the heart of Kampala's slums.
What began as a part-time passion project to teach 8 street children has grown into a school that caters for over 200.  The majority of whom have been orphaned or do not have a family support network capable of funding their education.
Sunny Smiles and a Warm Greeting
In 2013, a group of EAC volunteers from the UK visited the New Brainstorm School.  They were struck by the children's warm welcome, smiling faces and their sunflower yellow uniforms.  Despite the ramshackled wooden classrooms they were astonished by the quality of the children's school work.
One volunteer in particular was struck by the children's abilities and the story of the school's inspirational headmaster, Nikolas John Kintu.  Lisa Peters, a primary school teacher from Buckinghamshire, decided to set up a pen pal scheme between her pupils at Cookham Rise Primary School and the children at NBS.  And so began a relationship that would service the school in the years to come.
The Saving New Brainstorm Initiative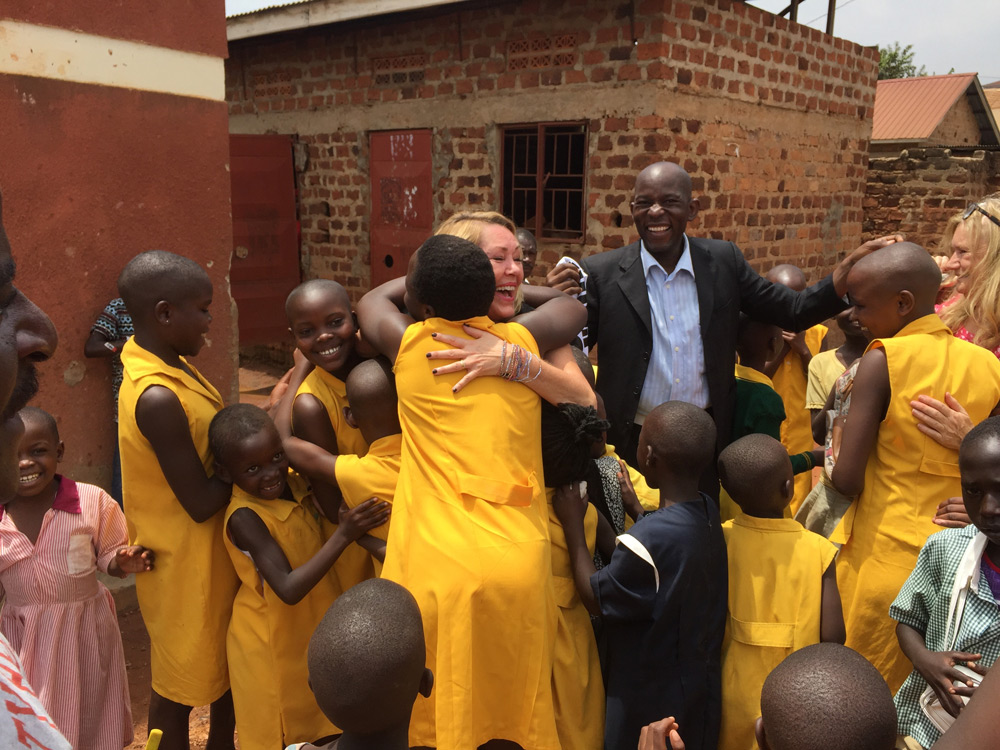 In 2016, the local authorities informed Mr. Kintu that they intended to close the school as they deemed its wooden classrooms unsafe.  With no official funding and the school run on a shoestring of local donations and volunteering teachers, the future looked bleak.  Through the inter-school correspondence set up in 2013, Lisa Peters heard of the school's plight and relayed the news to her pupils.  They immediately suggested that they wanted to do something to help. The Saving New Brainstorm initiative was born.
Since that time, school fetes, plays, sponsored silences (the parents' favourite!) and all manner of fund raising schemes have been employed to secure the school's future.  It may not look like much, but it has established itself as a beacon of hope within the Kawempe District and the wider community.
The Future
The New Brainstorm School's ongoing survival and ability to provide a philanthropic service is testament to a number of Empower a Child UK volunteers that were introduced to Mr. Kintu and the children in 2013.  The project has subsequently engaged a number of UK primary schools, local churches and businesses in fundraising activities to support the school's journey towards self-sustainability.  Despite the efforts in the UK and Uganda, the school cannot guarantee education and support for such a large number of children without financial assistance.
This is where the Empower a Child sponsorship programme can really help.  If it's in your heart to partner with us, you can sponsor a child at New Brainstorm to pay for their school fees and basic needs.  It's a way for you to help break the cycle of deprivation and an opportunity to transform a life of poverty into a life of possibility.